Written by Dawid Sek and Pawel Macionczyk, 6th class, Room 9
The Green Schools Committee, Mrs McCabe, Ms Brophy, lots of children and parents all went to the parade and represented the school on Saint Patrick's day. Well done to everybody who took part.
Some boys that won the report writing last month were invited to the Guardian offices and were shown around. Josh Kelly from 6th class told us about it,

"When we arrived, Peter Gleeson was at the door to greet us. He then showed us some old newspapers. The oldest one was from 1920. He also showed us newspapers that were printed on our birthdays.We then went to a different room with two other men there. One man was a sports reporter and the other one was an editor. Peter then showed us the paper for next week. Then he gave us a notepad and pen and we left."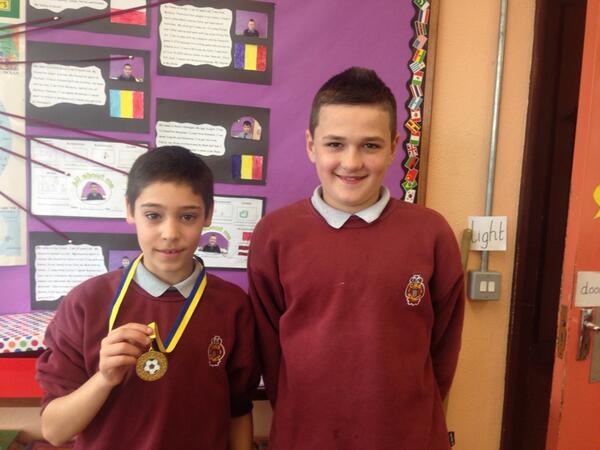 Two members of the winning soccer team.
The school soccer team has been playing in the 5-A-side competition and were separated into squads. They entered the Tipperary Primary School's 5-a-side competition that was held in St Kevin's in Littleton. One of the squads came in first place and now represent Tipperary in the Muster competition and the other squad are runners up.





The 4th and 5th classes were in the indoor hurling competition and won first and second place.
Adam Hogan from 6th class got sixth place in the spelling bee competition and Sean Phelan has gone onto the second round of the primary game competition.
The whole school has been doing procedural writing for this month and all the classes have started to make their schools out of lego and the winners will be announced at
the assembly.
Update: Lots of awards were given out at the assembly. Congratulations to all the boys who participated and to all the winners pictured below.
Act of Kindness Prize Winners
Prizewinners in Féile an Aonaigh
Winners of Anti-Bullying Caption and Poster Competitions
Procedural Writing Prizewinners
Classroom Updates


Mrs McGrath has done a project about waterfalls with her class. The class learned about a man called David Livingstone who discovered the first waterfall and they have also learned about rainforests and made a science experiment about mixing water and oil.
Ms Liston's class painted salamanders and a lot of Easter related art like Easter

Bunnies

and also really great suns that they painted

themselves

.
Mr O Sullivan's class are preparing for their confirmation. Adam Hogan from the class got sixth place in the spelling bee competition. They have learned about Anti-Bullying.
Ms Slattery's class have done great mothers day cards, leprechauns and

crannog

drawings and learned about the bronze and stone ages.
Mr Shine's class have learned about Daniel
O'Connell
and Anti-Bullying. They are preparing for their Confirmation and are learning songs with Mr O'Sullivan's class. They have also made flames for their
confirmation.
Mr Buckley's class have ma
de their own drafts boards and are going to
have a drafts competition.They are writing a procedure about the rules of plating darts. They are reading a spy novel by Anthony Horowitz.And are making their school Lego building.
Mr Ryan's class are making their school out of Lego and have fuzzy cards for behaviour. They learned about Anti-Bullying and like the rest of the school they are writing procedures.
Mr Smith's class have learned about Spain and made CD coasters. They did a science experiment.
Jason Richardson and Dylan Shoer from room 6 are preparing for the Confirmation. Eoghan Coffey is preparing for his first Communion. Room 6 is also making the Lego school, and they are busy finishing their procedural writing.
The school is closing on Friday the 11th of April for our Easter Holidays. We'll see you all back again on Monday the 28th of April. Enjoy the holidays!